Marion, IL Tree Care Experts - Call for Free Inspection & Consultation
Dresel Tree Service provides a comprehensive tree service for those in the Williamson County, Illinois area. Our licensed and insured tree service company provides dead-wooding, trimming, pruning, roof & power line clearing, and lot clearing. Pretty much anything tree related; you can rely on our certified professionals. We help keep your residential and commercial landscape in pristine condition with our tree care services, but we also help keep it protected by removing any hazardous limbs. Schedule an appointment with our tree care experts in Williamson County, Illinois today.
Tree Trimming & Tree Pruning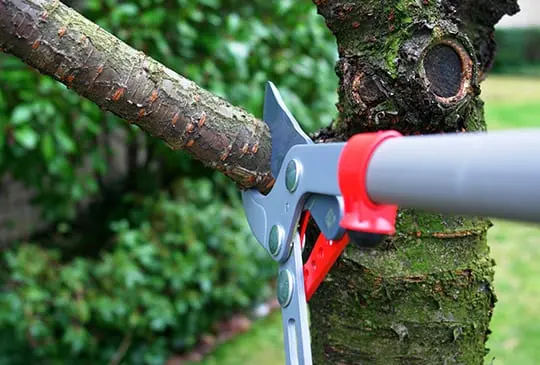 Dresel Tree Service has ISA-certified experts that can help any landscape by enhancing the natural beauty and structure with our tree trimming and tree pruning service. With tree trimming and tree pruning service, your trees will grow healthy and beautiful. Additionally, tree trimming and tree pruning helps limit the need for tree service down the road. Because of the Midwest's notoriously unpredictable weather, professional tree trimming and tree pruning helps minimize the chance of tree damage or need of tree removal.
Tree trimming in Williamson County, Illinois increases the healthy of your trees by removing any diseased, broken, or dead branches. This helps prevent any disease that results in decay or insect infestation from spreading to other parts of your tree. 
Tree pruning can also be done to enhance the safety of you and your property. With severe weather conditions, you run the risk of having tree branches falling and causing destruction. Whether you are wanting tree trimming and tree pruning for an aesthetic, healthy, or safety reason, you can rely on our years of experience at Dresel Tree Service.
Benefits of Tree Trimming & Tree Pruning
Tree Trimming & Tree Pruning Costs
When determining the costs of tree pruning and tree trimming, our certified experts at Dresel Tree Service won't provide an estimate until they see the trees themselves. That is the best way to ensure our estimates are accurate. Some factors that help us determine the cost include:
Our tree care professionals speak with you to understand your wants and needs are and breakdown all individual costs to give you a detailed understanding of what will be done and what it costs. 
We provide a detailed proposal so that you may undertake the entire project or just a portion, whatever best suits your goals and budget.
Whether you need to hire a professional for your tree care services or schedule an evaluation, contact Dresel Tree Service.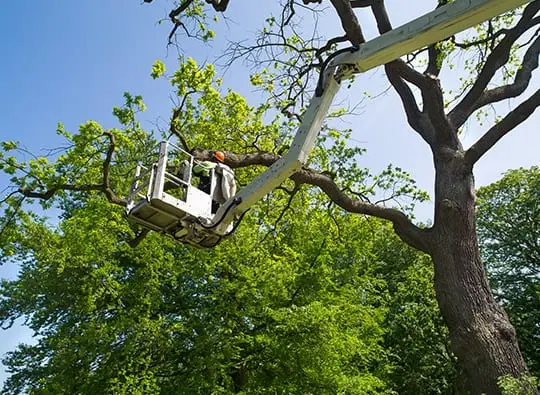 Dead wooding is our tree care service that entails the trimming of all dead wood off of your trees. As time goes on, tree branches, large and small, will die. Whether that is due to lack of sunlight or nutrients, it is common in urban and suburban areas. Trees with dead branches isn't visually appealing which is why dead-wooding is one of our top tree care services for the Williamson County, Illinois area. Our certified tree trimming professionals help every tree look more attractive and healthier by cutting any dead weight off.
Dead-wooding doesn't just make trees look livelier; it also keeps it protected as well as anyone that walks near it or under it. Decaying branches work like an infection and spreads throughout the entire tree trunk which puts the entire tree at risk of dying. Decaying branches also work as an open invitation to pests and insects which damages the health of your tree, too. 
Large tree branches that have died are also at risk of breaking off and falling which can result in property destruction. Call Dresel Tree Service for dead wooding if you are in the Williamson County area.
Roof & Power Line Clearing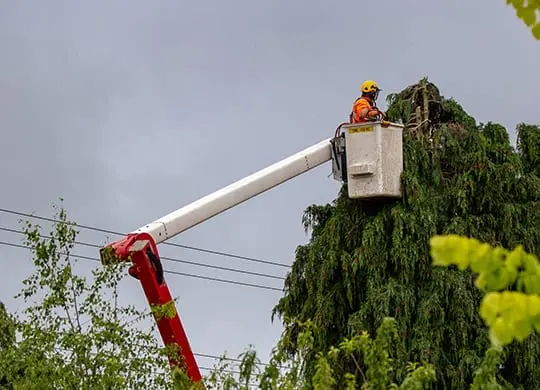 While tree trimming and tree pruning tend to be an issue of health and appearance of your trees, it may be an essential tree care service for the overall safety of you, your family, and property. If you have trees that grow too close to power lines or roofs, tree branches pose a threat of significant damage, especially during one of those notorious Midwest storms.
It isn't uncommon for tree branches to smash through windows, gutters, shingles, and even break through and damage roofs. Furthermore, if tree debris finds its way onto your roof it can result in mold growth and insect infestations. If your trees are growing close to power lines it can result in even more severe damage like power outages or an electrical charge to the tree rendering it unsafe to touch. When you need roof or power line clearing in Williamson County, Illinois, call Dresel Tree Service.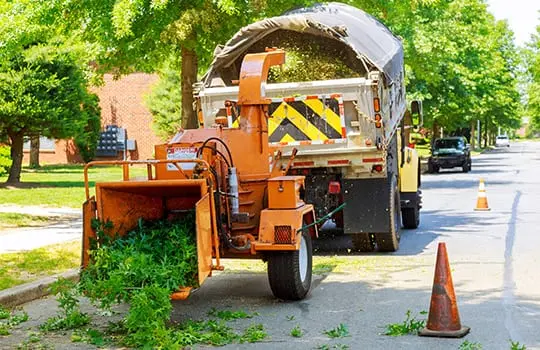 When you need to hire a lot clearing service in Williamson County, Illinois, you can trust Dresel Tree Service. You can rely on our trained and experienced professionals to ensure your lot is safe to start building a new project or if you want a clean and uniform look to your property. Removing trees, stumps, and shrubs isn't as simple as hacking away at plants, but it can result in property damage or land damage. With our professionals, we can address your specific needs with minimal damage. From grinding stumps to the removal of any dead trees, we provide a professional lot clearing service that is affordable and effective. We provide a quality workmanship that ensures all shallow roots are removed, giving our clients total freedom to do as they please with their land. Contact Dresel Tree Service for lot clearing in Williamson County, Illinois.  
Why Choose Dresel Tree Service
Those in the Williamson County area know that we're the place to trust for tree service that gets it right! The equipment and practices we use are modern and safe for the environment. We clean up the site and haul away all materials upon completion of the job. Also, our licensed and insured company is known throughout the area for prompt service at a reasonable price. We work on appointment to ensure we fit your needs best. Finally, we can handle your insurance work; bring your estimates to us!